Museum Collections
213 W. Main St., Lansing, MI 48933
The museums collection policy states: "The museum's primary focus is on material which was specifically made by, used by, or related to Michigan women's history, past and present. The purpose of the collections shall be to educate the public through exhibitions, lectures, and special events and to provide artifacts, information and information referral for research. The collections include, but are not limited to, memorabilia, artifacts and archival material relating specifically to the Michigan Women's Hall of Fame honorees."
A sample of what our collection holds over 420 artifacts and is steadily growing. About 50 percent are directly related to the Hall of Fame honorees, usually the gift of the honoree or her descendants. Our collections also have items pertaining to Michigan women's history, including 11 paintings and portraits and our collection of women's suffrage postcards.. Our visitors are also very interested in our gift collection of stamps from all over the world that feature women. This includes, for example, a 1928 "Battle of Monmouth" issue which is really a 1922-23 2¢ stamp with "Molly Pitcher" overprinted. This was the U.S. Post Office's response to the suffragists for a stamp with a woman on it.

Our Costume collection dates as far back as the 1860s.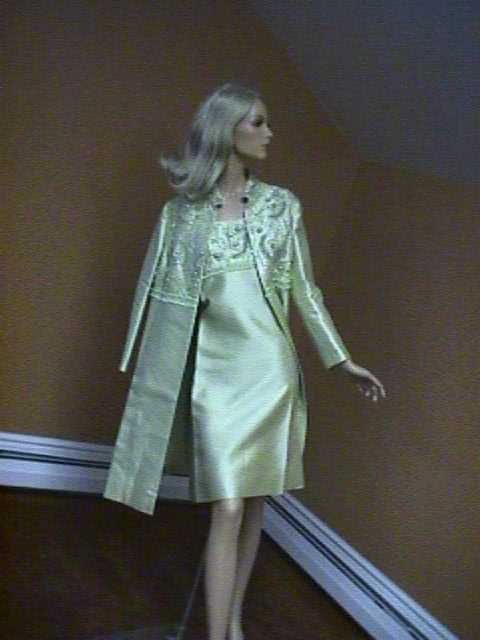 This lime green dress and jacket, with intricate beadwork is from the 1960's.
We over 300 volumes in our library, of these, approximately half are either by or about Michigan women and 25 are books relating to women's fashion/costume. We also have finder's aides and women's history collection information from other libraries and archives to assist in information referral. Our vertical file, which is catalogued by title, author, and subject is also a part of our resources and measures 24 feet.
The photographic collection features portraits of Michigan women, significant events in the women's movement, as well as photos of events at the center. about 40 percent are of the honorees. We have catalogued 400 portrait negatives and 360 slides.
Our video collection includes about 100 videotapes in addition to our Living Histories project described below.
Our Living Histories oral history project consists of 1/2 hour video tapes of Michigan Women's Hall of Fame honorees. Including:
Fran Harris a prominent broadcaster in Michigan
Mamie Geraldine Bledsoe, civil rights activist;
Jane Kay, retired V.P. of Detroit Edison;
Olga Madar, founder of the Coalition of Labor Union Women
Dorothy Haener, co-founder of the National Organization of Women
Mildred Jeffrey, retired UAW staff person and founder of the National Women's Political Caucus
Marjorie Peebles Meyers, the first woman and first Black to serve as Ford Motor Company's Chief Physician.


If you would like to donate an item to our collection, please contact the center at 517/484-1880.
Or email the center at mwhfame@leslie.k12.mi.us